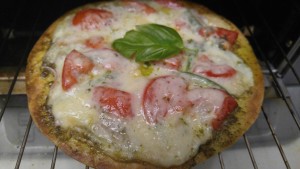 Try our delicious 7 minute phase 4 pizza recipe served 6 different ways.  Now that you are on HCG Diet Maintenance (Phase 4), you can have reasonable portions of carbs with your meals.  One of my favorite "comfort foods" is pizza.  When I was losing all my weight on the hCG diet, I wondered if I would ever be able to have pizza again.  The answer is YES!  I'm sharing with you many different ways to make delicious 7 minute HCG Phase 4 Pizza recipe with all the toppings you love and a few combinations you might not have thought of.  One of the secrets to successful maintenance with the hCG diet is carbohydrate management.  When I talk about reasonable carb servings, I refer to a strategy of pairing a carbohydrate serving with a greater or equivalent portion of protein and some fat.
When I created this Phase 4 Pizza recipe, I wanted something quick and easy that would minimize the number of carbohydrates in the pizza but still keep the satisfying crunch reminiscent of a crisp, thin crust pizza.   A simple whole grain tortilla is an easy way to cut carbs for pizza and makes a delicious, crispy, thin crust pizza that helps you manage your carbs.  If you have a sensitivity to gluten and wheat products, try a rice or other gluten free grain based tortilla instead.
Next, choose your favorite sauce and get creative as you load it up with your favorite low carb toppings like fresh vegetables, herbs, meats, and a blend of your favorite cheeses.  It's a great way to use up leftovers like (roasted chicken or beef) too.  This HCG Phase 4 pizza recipe takes only 7 minutes to prepare and is great for the whole family.
Choose your Sauce
The best option for delicious Phase 4 Pizza sauce is to make your own using fresh ingredients.  I'll be sharing recipes for simple low carb sauces here on HCGRecipes.com in the future.  If you decide to use a pre-made or store bought sauce, make sure it doesn't have added sugar or high carb content.
Marinara sauce (you can use a quality spaghetti sauce if you are pressed for time or make your own)
Olive oil and Italian Herbs (Lightly brush olive oil on your tortilla crust and sprinkle with Italian herbs and a little salt)
Pesto Sauce
Alfredo sauce (homemade is best but you can also use quality store bought alfredo sauce too)
Prepare your toppings
Grate cheese
Slice your vegetables, onions, garlic, etc.
Choose your meats and shred or slice them into bite size pieces
Directions
Choose your sauce and toppings and assemble your pizza.  When using a toaster oven, place your loaded Phase 4 Pizza directly on the rack.  Toast your pizza for 1-2 cycles or until the cheese is brown and bubbly and the edges are brown.  You can also wrap the edges with foil to prevent burning if you like.
Thin Crust Phase 4 Pizza Recipe – HCG Diet Maintenance
Chicken Pesto Phase 4 Pizza
Ingredients
1 whole grain tortilla
2-3 Tablespoons pesto sauce
1/2 cup cooked and shredded chicken breast
1/2 cup mozzarella cheese, grated
2 tablespoons parmesan cheese, grated
Red onions
Pepperoni with Mushrooms Phase 4 Pizza
Ingredients
1 whole grain tortilla
2-3 Tablespoons marinara sauce
1/2 cup grated mozzarella cheese
2 Tablespoons parmesan cheese
12-15 slices pepperoni
6 medium mushrooms, sliced
1/8 red onion, cut into thin strips
Pinch of red pepper flakes (optional)
Tomato Basil Phase 4 Pizza
Ingredients
1 whole grain tortilla
2-3 Tablespoons pesto sauce
1/4 cup mozzarella cheese, grated
2 slices provolone cheese, sliced thin
2 Tablespoons parmesan cheese, grated
1 medium tomato, sliced
3 large leaves fresh basil, rolled and minced
1 clove of garlic, minced
1/8 red onion, cut into strips and sliced thin
Pinch of red pepper flakes (optional)
Veggie Supreme Phase 4 Pizza
Ingredients
1 whole grain tortilla
2 Tablespoons red sauce or olive oil and herbs
1/2 cup mozzarella cheese
1/4 medium bell pepper, cut into strips
1/2 medium tomato, sliced or diced
1/4 cup green or black olives, sliced
3-4 mushrooms, sliced
1/4 cup veggie mix (cauliflower, zucchini, summer squash, broccoli, and/or other vegetables)
1/8 green onions, minced (substitute white or red onions)
1/8 cup corn kernals (optional)
Drizzle of Balsamic vinegar (optional)
Mexican beef with Roasted Peppers Phase 4 Pizza
Ingredients
1 whole grain tortilla
1/2 cup shredded or ground taco meat
1 Anaheim or poblano pepper, broiled, peeled, and cut into strips
3 tablespoons salsa (Red or green tomatillo)
1/2 medium tomato, sliced
1/4 cup mozzarella cheese
1/4 cup cheddar cheese
1/8 cup onions, minced
2 Tablespoons sour cream and additional salsa for topping or dipping
Chicken and Spinach Alfredo Phase 4 Pizza
Ingredients
1 whole grain tortilla
2 Tablespoons alfredo sauce or olive oil and herbs
1/4 mozzarella cheese
1/4 cup feta cheese
1/2 cup cooked and shredded chicken
1/4 cup spinach (rolled and sliced)
2 cloves garlic, crushed and minced
1/8 cup onions, minced