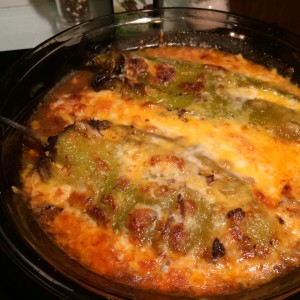 I love good Mexican food and one of my favorite things to order in a restaurant is Chili Rellanos.  While tasting and creating this recipe, I looked for just the right blend of three cheeses and created a delicious green chili sauce that truly captures the mild chili flavor from fresh Anaheim chilies.  I was amazed at how good these were.  These Chili Rellanos are a delicious Recipe for HCG Phase 3 you can serve as a main entree or side dish for your favorite Mexican style HCG Phase 3 meals.
Honestly, when I go out to eat in a restaurant these days the bar is set pretty high.  I quite often prefer my own cooking and restaurant Chili Rellanos are often hit or miss for me.  Most restaurant or traditional chili rellanos are coated with egg and flour and then fried, leaving them fairly oily and not all that healthy.
Looking for a solution and the perfect chili rellano that captures all the flavors I love without the grease and gluten I came up with this quick and easy baked chili rellano recipe for HCG Phase 3.  It takes just minutes to prepare and only 25 minutes in the oven and you have a delicious HCG Phase 3 approved recipe for your HCG Diet.  I serve it with all the fixings like fresh guacamole and cilantro and when served with a side of Shirataki rice, Cabbage rice or my Cilantro Lime Spinach it makes a perfect low carb Phase 3 meal.
Oh yes, not only did I fully enjoy the cheesy version, but in the following days, I used this recipe as the base for two more incredibly delicious Chili Rellano recipes (HCG Phase 3 approved).  Try my Barbacoa Beef Stuffed Chili Rellanos and Pork Chili Verde Stuffed Chili Rellanos too!  It's hard to explain just how amazingly delicious they are.  Now we're cooking!  Enjoy the recipe.
Baked Chili Rellano Recipe for HCG Phase 3
Ingredients
4 large Anaheim or Pasillas chilies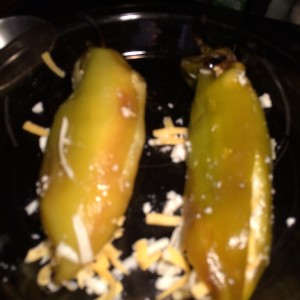 2 cups cheese (blend of cheddar, monterey jack, and cotija cheeses)
Chili Rellano Sauce
Ingredients
1/2 cup tomatoes crushed
1 can diced green chilies
1/4 cup chicken broth
1 tablespoon oregano
2 cloves garlic, crushed and minced
1/2 teaspoon garlic powder
1/2 cup onions, diced
Directions
Roast chili rellanos (grill or broil method) and gently remove the skins.  Slice chilies down the middle and open for stuffing.  Fill each chili with cheese mixture reserving some for the topping.  Turn the chili rellanos over, stuffed side down.  Preheat the oven to 375 degrees.  Prepare sauce by combining all ingredients in a small saucepan, bring to a boil, reduce heat and simmer for 10 minutes to combine flavors.  Pour sauce over the rellanos, top with remaining cheese, and bake for 25 minutes until lightly brown and bubbly.
Makes 4 servings
Serving Suggestion:  Enjoy topped with fresh guacamole, sour cream, fresh tomato, chopped cilantro, and green onions.