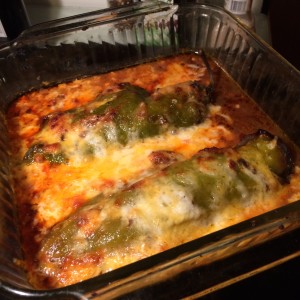 This Barbacoa Beef Stuffed Chili Rellanos recipe was inspired by a serious love of Mexican food and especially chili rellanos.  My version features my delicious crockpot Barbacoa Beef combined with mild green chilies and cheese.  Chili rellanos are typically very labor intensive and when made traditionally, have to be roasted, stuffed, dipped and floured, deep fried, drained, and then baked.  Well thats just too much work for me and honestly, it simply isn't necessary.  You can enjoy a healthier version like this and achieve the same delicious flavor.  The addition of spicy barbacoa beef to mild chilies and cheese turned out amazing and made a perfect, quick and easy Phase 3 meal.  I like to use subtle, mellow, mild chilies like Anaheim and Poblano (Pasillas) chilies.
You can also use the broil method for chilies to create other delicious Phase 3 meals.  You can cut them into strips to add to a Phase 3 salad or top a low carb P3 pizza with them.  Try my traditional low carb chili rellanos stuffed with cheese for a vegetarian Phase 3 treat.  I think they taste as good as restaurant style chili rellanos and this beef stuffed, flour less, low carb version, takes just a fraction of the time to make and is P3 approved.  Enjoy!
Barbacoa Beef Stuffed Chili Rellanos (Beef Recipe for P3)
Ingredients
4 large Anaheim or Poblano (Pasillas) peppers
1 1/2 cups mixed monterey jack, cheddar, and cojita cheese. grated
2 cups Barbacoa beef with sauce  (Get the recipe HERE)
1/2 cup onions, chopped (optional)
1/4 cup water (optional if you prefer a thinner sauce)
Directions
Broil peppers on both sides in an oven or over open flame until blisters form.  Carefully peel off the outside skin and make a single slit lengthwise. Place in a baking dish and open up the pepper for stuffing.  Prepare and grate your cheese and lightly mix it in a bowl.  Spoon about a 1/3 cup of Barbacoa Beef into the chili rellano, 1/4 cup grated cheese (reserve about 1/2 cup for topping) and onions, and roll the rellano over so the slit is at the bottom of the dish.  Top with the remaining Barbacoa beef, sauce, and water and sprinkle liberally with cheese.  Bake at 375 for about 20 minutes or until the cheese is lightly brown and bubbly on top.  Set aside to cool for 5-10 minutes and serve.
Makes 4 servings