HCG Shrimp Recipes for Phase 2
Black Pepper Shrimp
Looking for delicious HCG Shrimp recipes for HCG Phase 2?  Try this delicious Black Pepper Shrimp Recipe featured in the HCG Diet Gourmet Cookbook Vol. 1.  I love the taste of freshly ground black pepper and REALLY LOVE the taste of shrimp.  This tasty HCG Shrimp recipe is quick and easy to make and tastes absolutely delicious on P2.  Try your shrimp sautéed with some finely shredded cabbage or on a bed of fresh spinach or add some chopped tomatoes to the mix.  The distinctive flavor of freshly ground black pepper really accents the flavor and texture of HCG Shrimp recipes.
As you may know, some of my best secrets to success with the HCG Diet are:  giving yourself variety, loads of flavor, fresh spices, and choosing the right recipes for each phase of the diet.  (I believe that choosing recipes that follow the original Dr. Simeons Pounds and Inches protocol can help ensure your success).  One of my lesser known secrets is in timing when you choose to eat certain proteins like shrimp vs beef.  I found that I lost more weight the following morning when I ate shrimp or other seafood for the evening meal.  I would eat heavier proteins like beef or chicken for lunch and then follow up with a recipe like my Black Pepper Shrimp recipe in the evening which would often lead to greater losses the next day.  Another delicious HCG Phase 2 shrimp recipe you might enjoy is my Spicy Shrimp and Tomato Soup.
So enjoy this and other HCG shrimp recipes from my cookbooks and here on HCGRecipes.com and know that you now have the tools and best recipes to stay on track with your diet and weight loss goals.
Black Pepper Shrimp Recipe (HCG Phase 2)
Ingredients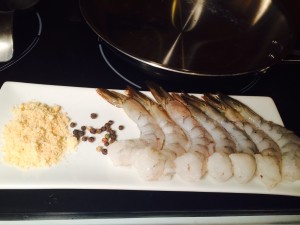 100 grams shrimp
1 serving Melba toast crumbs (optional)
2 tablespoons lemon juice
1 tablespoon caper juice
Salt and fresh ground black pepper to taste
Directions
Mix Melba toast crumbs with salt and a generous amount of black pepper.  Coat shrimp with Melba toast/pepper mixture and fry on high heat in a skillet with a little lemon juice until cooked well.  Serve hot and garnish with lemon and additional freshly ground black pepper.
Makes 1 serving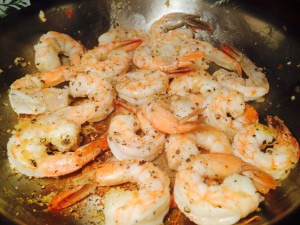 1 protein, 1 Melba toast
20 grams protein, 1.5 grams fat, 120 calories
Phase 3 modifications:  Coat shrimp with almond flour and fry with a little olive oil until crispy and shrimp is cooked through.
From the HCG Diet Gourmet Cookbook Vol. 1.  For more information about our HCG Diet Cookbooks Learn more HERE
Sign Up for my Free HCG Recipes Newsletter   Get the latest articles and recipes!