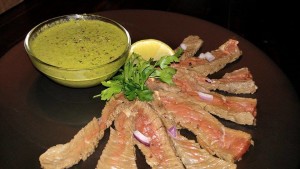 Looking for a delicious beef recipe for HCG Phase 3?  Try my savory Chimichurri Steak Recipe Phase 3.  This Phase 3 steak recipe was inspired during my recent honeymoon in Costa Rica!  Chimichurri sauce makes a versatile sauce, flavorful marinade and dipping sauce.  Chimichurri herbs and flavors originated in Argentina and are a culinary staple in many tropical regions around the world like Central and South American countries.   The fresh flavors of lime, garlic, and crisp parsley really shine in this tasty, quick and easy, HCG Phase 3 dish.  For even more variety on HCG Phase 3, mix Chimichurri sauce into other Phase 3 recipes like my Cabbage Rice recipe or serve with chicken, fish, and shrimp dishes!
Want to enjoy Chimichurri steak on HCG Phase 2?  Try my delicious P2 approved  Chimichurri Steak Recipe Phase 2.
Chimichurri Steak Recipe Phase 3
Ingredients
4 steaks approximately 5-6 ounces each  (london broil, strip steak, sirloin, rib eye, etc.)
2 tablespoons butter
Salt and pepper to taste
Chimichurri Sauce Recipe Phase 3
Ingredients
1 bunch flat leaf parsley, minced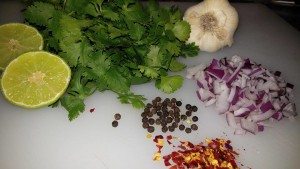 1/4 cup red onions, minced
2 cloves garlic, crushed and minced
1/2 cup olive oil
1/4 cup lemon or lime juice, fresh squeezed
1/4 red wine vinegar
1/2 teaspoon chili pepper flakes
1 tablespoon fresh oregano
Salt and pepper to taste
Directions
Wash and trim parsley, cutting off the length of the stems.  Combine onions, garlic, spices, with liquid ingredients in a blender and pulse until blended.  Refrigerate chimichurri sauce until ready to use.  Coat each steak with 1 tablespoon of chimichurri sauce and marinate in the refrigerator for a minimum of one hour or overnight.  Discard marinade and fry your steak with a little butter or grill up on the barbecue.  I like to prepare my steaks medium rare – medium, but feel free to cook your steak to your own personal taste and level of doneness.  Allow steak to rest for 2-3 minutes before serving.  Cut steak into thin slices and serve with Phase 3 Chimichurri sauce over top or on the side as a dipping sauce.
Makes 4 servings
Dieting on HCG Phase 2 and want a P2 approved version of this recipe?  Try my Chimichurri Steak Recipe Phase 2
Want to know more about the HCG Diet Gourmet Cookbook Vol. 3 for HCG Phase 3?  Join my Email List for special offers and free recipes.