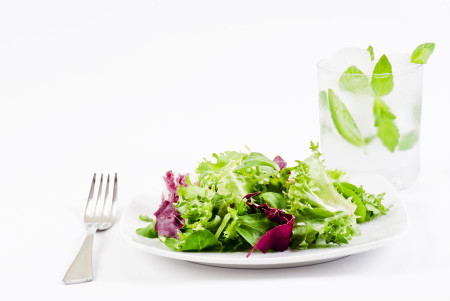 Avoiding Hunger on HCG
Well, many people would assume that eating as little as 500 calories a day such as on Phase 2 of the HCG Diet, you would get pretty darn hungry.  I know a thing or two about hunger.  Prior to finding the amazing metabolism boosting benefits of a round of HCG, I suffered from massive food cravings.  I mean, I would eat anything under the sun, particularly bread and sugar.
An interesting phenomenon of being on the HCG phase of the HCG Diet is the absolute lack of hunger dieters experience while eating only 500 calories a day.  This is in fact totally normal.  I was absolutely floored myself by my own lack of hunger.  In fact there were nights where I just wasn't hungry and would practically have to choke down my strawberries or "remember" to eat my chicken and spinach.  So, I'm here to offer a few helpful hints on what things may cause you to be hungry on the HCG Diet and what you can do about it if you are.
So lets address some of the reasons you might be hungry.  First of all, your HCG must be fresh.  If you have left it out on the counter for 24 hours at room temperature it may have degraded in its potency.  If it's over 30 days old it might not work for you.  In fact, I actually recommend getting a fresh mix of HCG every 15 days if you can.  If it was exposed to too much light it can degrade.  I've heard people caution against using HCG imported from China and that may have caused some people to experience hunger.  Always make sure you check your source of HCG for freshness.  If you are working with a clinic… ask when they mixed it for you.
Another reason you may be experiencing hunger is if you didn't load properly.  I just recently posted on this issue with some special loading tips.  Read that blog post if you can to get some ideas on how to load properly.  In a nutshell, I say, focus on high fat foods rather than high carb foods like pasta and ….. eat more than you think you can for a full two days.  People who skip the load often experience hunger for a full week or even longer.  Don't skip the load.  During my own rounds of HCG it was extremely rare that had any true hunger.  There would be times when I missed a certain food but in reality, I wasn't really hungry at all.
Yet another reason you may find yourself overly hungry is if you are starting to reach what Dr. S calls "Immunity"  this basically means that your body has adapted to the HCG and you need to stop the diet (Read Pounds an Inches for the procedure) and take an extra long break.  Or, you might be nearing your goal weight and your body simply doesn't have enough abnormal weight left to burn off.  You might have reached a metabolic set point with your weight.  Anytime you feel you have reached immunity you should wean off the diet and go on to Phase 3.
The last reason I can think of why you might be excessively hungry is if you are not taking enough HCG.  There are some scam products like HCG Cream, HCG simulating vitamins.  Don't believe it.  You are either not getting enough HCG into your system to work or you are taking really expensive vitamins that do not act on the body the way that HCG does.
So, lets say you're doing everything right, and your HCG is fresh, and you are taking the right dosage of HCG, and you loaded properly and you STILL  find yourself hungry.  What can you do?  Well, if you skipped the load you simply wait it out and within a week you shouldn't have the same intensity of hunger as the HCG kicks in.  Drinking lots of water throughout the day really helps.  Also drinking the recommended hot and herbal teas can take the edge off.
I recommend in my HCG Diet Gourmet Cookbook to space out our meals.  Have a fruit for breakfast, protein and vegetable for lunch, protein and vegetable for dinner, and a fruit for an evening snack.  Again, lots of water and tea in between.  Another trick is to enjoy a hot soup.  Very filling and delicious (Quite a few recipes are offered in my cookbook or make your own).  Another trick is to eat some extra vegetables.  Dr. Simeons didn't put a real limit on vegetables so if you wanted to add some extra cabbage to your entree thats perfectly fine and shouldn't take you over the 500 calorie limit.
Most important, hang in there.  Unless you are experience a true immunity and if you are doing all the right things, then this diet should work for you.  Try to distinguish whether or not your hunger on HCG is really hunger or if you just miss a certain food or have a craving.  The results of this diet when followed correctly are pretty amazing so stick it out!  Good luck to you all.