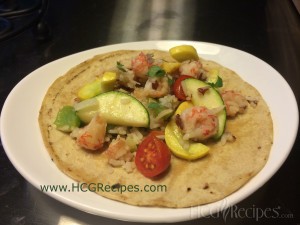 This delicious Langostino Taco recipe (HCG Phase 4 Recipe) is one I developed while on HCG Diet Maintenance.  I love the sweet taste of lobster and got the inspiration to add the crunch and flavor of a delicious medley of fresh veggies to the mix.  Fresh oregano and a splash of cayenne topped it off and I was in heaven.  I had found a bag of frozen langostino baby lobster tails at Trader Joes (you can also usually find them at Costco and many specialty or high end grocery stores)
If you want to cut the carb count, serve with only one corn tortilla.  While this is technically an HCG Phase 4 Recipe for the HCG Diet, you can always modify it to an HCG Phase 3 recipe.  Just skip the rice and corn tortilla and serve your Langostino Tacos in lettuce wraps, Paleo coconut wraps, or on top of fresh salad greens with your favorite dressing or my Kicked up Guacamole Recipe!  Enjoy this light and healthy HCG Phase 4 approved and gluten free recipe on HCG Maintenance.
Langostino Tacos (Baby Lobster)
HCG Phase 4 Recipe for HCG Diet Maintenance
Ingredients
2 cups Langostino (baby lobster tails) 1/4 cup per serving
4-8 Corn tortillas (1-2 per serving)  Optional.  For HCG Phase 3, serve with lettuce wraps
2 cups chopped veggies (1/4 cup per serving)  I use summer squash, bell pepper, and halved grape tomatoes)
1/4 cup cooked rice (optional)  (Portioned out among 4 servings 1-2 tablespoons each)
1/4 cup onions
3 cloves garlic, crushed and minced
1 tsp. ghee or butter
Pinch of fresh or dried oregano leaves
Splash of cayenne pepper sauce (optional)
SSqueeze of lemon and/or fresh cilantro
Directions
Saute Langostino tails, veggies, and rice in ghee until lightly cooked.  Steam or warm tortilla and top with Langostino veggie mixture, oregano and top with cayenne pepper sauce.  I also found that just a touch of Sriracha Ranch or Chipotle Ranch dressing really enhanced the flavors of the lobster although you don't want to use too much or it could overpower the natural flavors of the lobster medley.  Serve
Maintaining your weight on P4 isn't so hard when you make smart choices with your diet.  Eating lots of vegetables daily balanced with healthy protein and observing a gluten free diet with moderate servings of carbs and starches are some of my common sense secrets to successful maintenance.  This and other HCG Phase 4 Recipes (As well as HCG Phase 2 and Phase 3 Recipes) are available here and on my HCG Recipes Pinterest Boards.