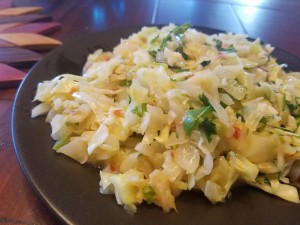 No one knows better than I how challenging it can be to find the right recipes to help you stabilize on Phase 3.  I also love good food and exotic flavors and spices.  This Lime Cilantro Cabbage Rice Phase 3 is one more inspiration from my travels over the last few years.
My recent honeymoon to Costa Rica and week long cruise to the Caribbean got my taste buds pumped up and inspired for the flavors of the tropics.  I adore tropical flavors like lime and coconut.  The flavors of tangy lime and creamy coconut sauce with a hint of ginger pair beautifully combined with the crisp taste of fresh cilantro.
Serve Lime Cilantro Cabbage Rice Phase 3 as a delicious phase 3 approved side dish or top with your favorite P3 entrees and recipes.  Try it with chicken, shrimp or my Chimichurri Steak Recipe Phase 3.  It's absolutely delicious and will help keep you stabilizing through HCG Phase 3 and maintaining your weight.
Lime Cilantro Cabbage Rice Phase 3
Ingredients
4 cups cabbage, minced
1/2 cup cilantro, minced
1/2 cup coconut cream
2 tablespoons unsweetened coconut, shredded
1/4 cup chicken or vegetable broth
1 tablespoon olive oil
1 tablespoon butter or ghee
Juice of 3 limes
1 tablespoon chili paste
2 cloves garlic, crushed and minced
2 tablespoons white onions, chopped
1 tablespoon green onions, minced
1 teaspoon fresh ginger, minced
Pinch of lime zest
Water as needed
Salt and pepper to taste
Directions
Prepare recipe ingredients and finely mince cabbage to rice like texture.  Saute' onions and garlic in olive oil and butter for 1-2 minutes.  Stir in cabbage and saute' another 2-3 minutes.  Mix in coconut cream, lime juice, chili paste, and ginger. Simmer on low-medium heat for an additional 5 minutes or until cabbage is tender and desired consistency is achieved.  Garnish Lime Cilantro Cabbage Rice with shredded coconut, fresh cilantro, and green onions.
For a Phase 2 version of this recipe, see my P2 approved recipe Lime Cilantro Cabbage Rice Phase 2!