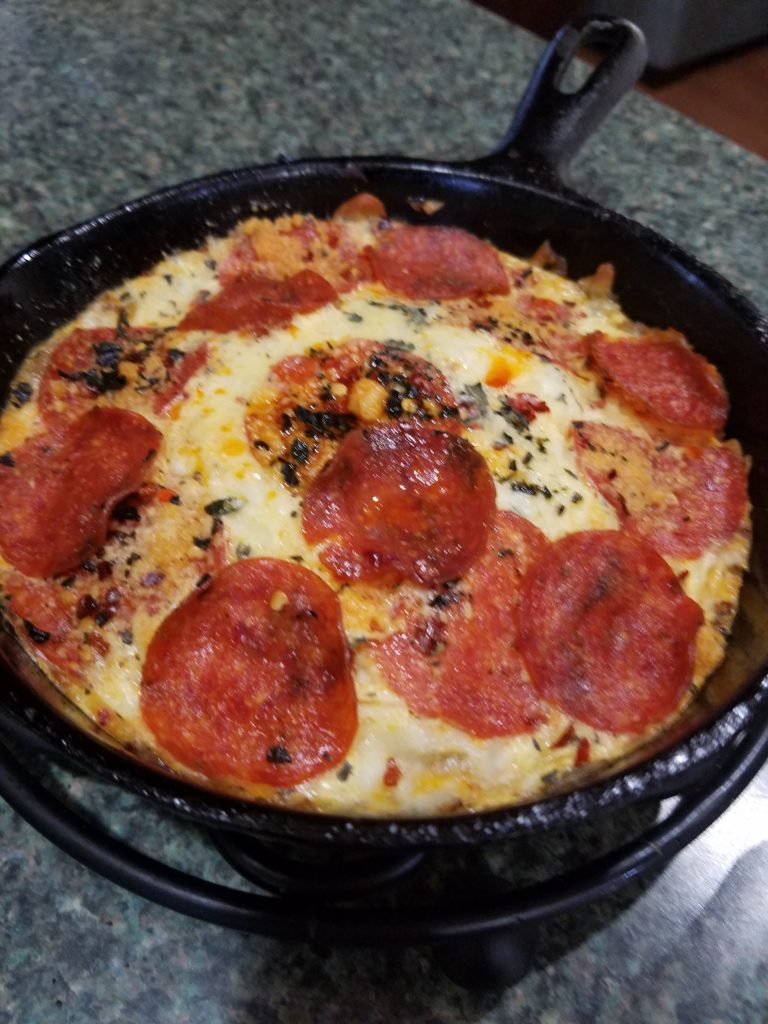 Just made this HCG Phase 3 Pepperoni Pizza Frittata recipe today for lunch and Oh Wow!… just had to share.  Now you can enjoy a deliciously low carb pepperoni pizza that is perfect for HCG Phase 3.  Full of flavor and loaded with cheese and healthy protein, you won't miss the crust with this pizza frittatta recipe.  The eggs combined with cheese give this pepperoni pizza frittata a rich, creamy texture that is fork tender and the caramelized onions and mushroom crust adds new dimensions of flavor to the dish.
This Pepperoni Pizza Frittata recipe is super easy and ingredients are flexible to cater to your own personal tastes.  Feel free to add, substitute or modify the recipe with some of your other favorite pizza toppings and ingredients like:
Sausage
Canadian Bacon
Ham
Extra cheese in a variety of flavors
Chicken or Beef topping
Green or red bell peppers
Jalapenos and other chilies
Black or green olives
Fresh tomatoes
Fresh spinach
Other vegetables
Make sure to stick to HCG Phase 3 approved ingredients when modifying your Pepperoni Pizza Frittata.  While its fun to experiment, remember to always avoid adding ingredients that contain sugars and starches during your time on HCG Phase 3.
Pepperoni Pizza Frittata Recipe Phase 3
Splash of milk or half and half
1/2 cup mozzarella, shredded
1 tablespoon parmesan cheese, grated
Pinch of red pepper flakes
1/4 teaspoon Italian herb spices (oregano, basil, spice mix)
Saute onions and mushrooms with butter on low heat until soft and sweet in oven safe frying pan. Allow to cool to medium heat before adding Pizza Fritatta ingredients. Lightly whip eggs with milk or half and half. Add salt, pepper, and red pepper flakes and pour over mushroom and onions mixture. Layer mozzarella cheese and pepperoni and sprinkle with parmesan cheese and herbs. Bake at 350 for approximately 20 minutes or until cheese is melted and pepperoni is crisp.