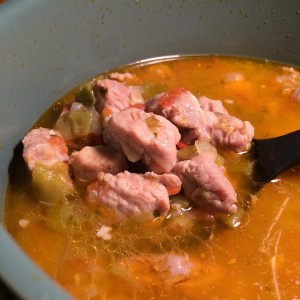 Try this delicious, tender HCG Phase 3 Pork Recipe.  Mild green chilies, tomatoes, onions and cilantro make this Pork Chili Verde Recipe a real treat and completely Phase 3 approved for the HCG Diet.  My fiancé actually cooked this for me (took about 45 minutes when cooked on the stove top) and served it up HCG Maintenance style with rice and beans and all the fixings like fresh guacamole (Try my Kicked Up Guacamole Recipe), sour cream and cheese but it is absolutely delicious and Phase 3 approved served up on its own.  Feel free to keep it mild or jazz up the heat by adding extra chilies.
Serving suggestions for Phase 3:  Enjoy a Chili Verde omelette for breakfast.  Another delicious Phase 3 Pork recipe is my Chili Verde Stuffed Chili Rellano Recipe.  Serve it over Shirataki Noodles, over grilled vegetables, as a stew, lettuce wrap or salad.  Tastes delicious made with chicken too!
Chili Verde Recipe (HCG Phase 3 Pork Recipe)
Ingredients
2 to 2 1/2 pounds pork roast cut into 1 inch cubes
2 cans diced green chilies
1 cup tomatoes, chopped
1 1/2 cup onions, chopped
3-4 cloves garlic, crushed and minced
1 Tbs. butter
2 Tbs. apple cider vinegar or lime juice
2 Tbs. minced cilantro
1/4 cup of water or broth
Salt and pepper to taste
Directions
Lightly brown cubed pork in butter.  Add onions and garlic and sauté until onions soften slightly.  Add liquid ingredients and spices and bring to a boil.  Reduce heat and simmer for 45 minutes to an hour until pork is tender.
Chili Verde Crockpot Version
Directions
Brown cubed pork in butter add garlic and onions and sauté for several minutes. Combine all ingredients in a crockpot and set to high heat for 1 hour.  Reduce heat to low and cook 8+ hours or overnight.  Your Chili Verde will be delicious and ultra tender.
Toppings:
Guacamole  (Try my Kicked Up Guacamole Recipe)
Fresh salsa
Tomatoes
Sour cream
Cheddar, monterey jack or cotija cheese
Fresh cilantro or oregano
For phase 4 maintenance you can serve with rice and black beans or as a healthy wrap. (Consider using Gluten Free wraps or high fiber wrap)
.