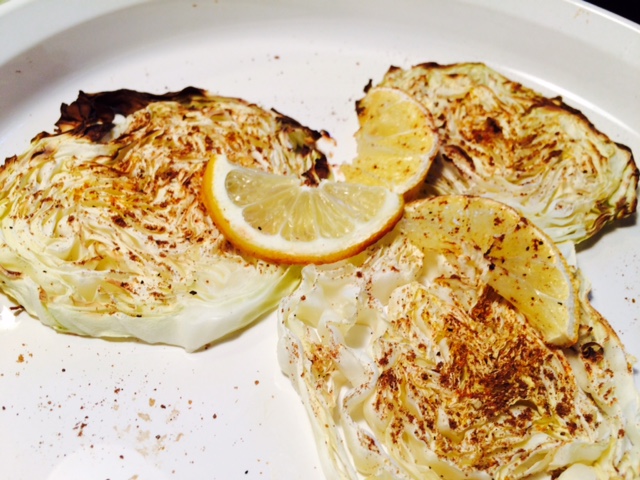 I have always loved Indian spices and cooking.  If you own one of my HCG Diet Gourmet Cookbooks you will know that I introduce cooking with Garam Masala as one of my favorite spices.  Both of my Phase 2 cookbooks feature recipes with Garam Masala which has a lovely hint of sweet and savory and combines beautifully with curry and turmeric for a deliciously flavorful Phase 2 vegetable dish.
This Roasted Indian Spiced Cabbage recipe is delicious when served with any of the HCG Phase 2 proteins.  Try it topped with chicken, beef, and grilled shrimp.  The cabbage gets a little brown and crispy and I've added a touch of stevia for a just a little sweetness.
In addition to tasting delicious, the ingredients and Indian spices in this recipe are well known for their health benefits.  Turmeric is a powerful anti inflammatory.  Cayenne Pepper is helpful as a digestive aid, immune booster, and can even support your weight loss with the HCG Diet.  One of the primary ingredients in Garam Masala is Cinnamon which has health benefits that include lowering blood sugar and assisting with weight loss.
I hope you enjoy this delicious and flavorful Roasted Indian Cabbage Recipe on your HCG Phase 2!  Enjoy!
Roasted Indian Cabbage Recipe for HCG Phase 2
Ingredients
2 large slices from a head of cabbage
1/8 teaspoon curry powder (feel free to add extra turmeric if desired)
1/8 teaspoon garam masala
2 teaspoons lemon juice
1 tablespoon water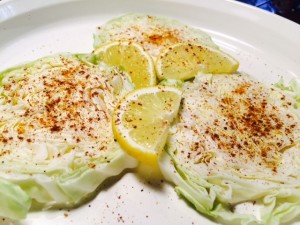 Pinch of cumin
Pinch of cayenne pepper
Pinch of garlic powder
Pinch of stevia for a little sweetness (optional)
Salt and pepper to taste
Directions
Brush cabbage slices/steaks with lemon juice and water.  Sprinkle with spices.  Alternatively, you could break up the cabbage slices into strips and toss with the seasonings.  Lay out in a baking dish or foil and bake at 375 for approximate 25-30 minutes until brown and slightly crispy.
Makes 1 serving (1 vegetable)
Phase 3 modifications:  Brush your cabbage slices/steaks with melted coconut oil (So Yummy) or olive oil.  Coat on both sides and roast as directed.
I love your comments and feedback and how you like the recipe.  Join me on Facebook and please share this and other recipes from HCGRecipes.com with other dieters and anyone you think might enjoy it!
Adapted for the HCG Diet Phase 2 from an original recipe by EveryDayMaven.