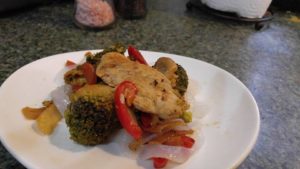 Ever since I lost my extra poundage with the HCG Diet, I've been trying to find ways to enjoy healthier versions of my favorite comfort foods.  As a pasta lover, and HCG dieter,  I despaired at ever being able to enjoy pasta again.  So when I first discovered pure fiber shirataki noodles, it opened up a world of possibilities.  I started experimenting with the noodles, enjoying them in a variety of dishes like Spaghetti Bolognese, Pad Thai and of course the recipe that follows here for Shirataki Noodle Stir Fry. For those of you who haven't tried shirataki noodles before, the pure fiber shirataki noodles have zero carbs and calories. 
Please note that I'm ONLY recommending the pure fiber varieties like Miracle Noodles and NOT tofu shirataki noodles.  
Many HCG Dieters have enjoyed shirataki noodles on HCG Phase 3 and many have had success eating them on the low calorie HCG Phase 2 also.  One of my personal favorite ways to enjoy shirataki noodles on Phase 2 is to stir them into my famous HCG Diet Chili recipe.  So delicious!  As an added bonus for folks like us watching carbs and on a diet, the fiber helps you feel full and satisfied longer and actually aids your weight loss efforts.
This Shirataki Noodle Stir Fry Recipe for Phase 3 is a real treat and packed full of colorful and nutritious fresh veggies and healthy protein.  I like to serve it with a wedge of lime and the red chili hot sauce Oelek Sambal or even a low carb sugar free Sriracha sauce.  While its absolutely delicious made with chicken, feel free to substitute any other protein like beef, shrimp, or pork.
Shirataki Noodle Stir Fry Recipe 
2 medium chicken breasts (approximately 10 ounces), thin sliced 
2 packages shirataki noodles (angel hair or fettuccini) rinsed and lightly dry roasted
1 1/2 cups broccoli florets,
1 cup carrots, sliced or julienned
1 red bell pepper, cut into strips
1/2 onion, cut into strips
2 cloves garlic, crushed and minced
3 tablespoons toasted sesame oil
1/4 cup water or chicken broth
2 tablespoons ginger, grated

Stevia to taste (optional, if you prefer a sweet teriyaki flavored stir fry)
Pinch of red pepper flakes
Lime and cilantro for garnish (optional)
Heat oil in a large frying pan on low-medium heat.  Saute' onions in the oil for 1-2 minutes, add chicken and cook until almost opaque.  Increase heat to medium-high and add vegetables and spices. Saute' for an additional 5 minutes until chicken is lightly brown and vegetables are crisp tender.  Stir in liquid ingredients and simmer for an additional 3-5 minutes or until cooked.  While your vegetables are cooking, drain and rinse noodles and pat dry.  In a separate pan on high heat, lightly dry roast noodles. Pan fry shirataki noodles on high for 1-2 minutes until they squeak when pressed.  Set the noodles aside until stir fry is done.  Combine noodles with your stir fry.  Serve hot and garnish with lime, cilantro, and top with slivered almonds.