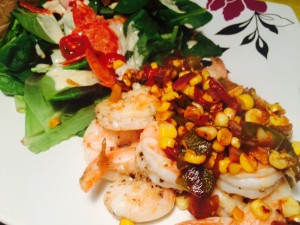 Try my delicious Phase 4 shrimp with corn relish recipe. This recipe features tender shrimp lightly cooked with lime and spices and topped with a mildly spicy corn relish featuring the flavors of fresh organic corn, roasted green chilies, garlic, and fresh tomatoes.
I adore the taste of fresh roasted green chili peppers like Anaheim, Hatch, and Poblano chilies.  I like to roast them in the oven using the Broil Method for roasting chilies.
Living in Arizona, I am blessed to have access to seasonal, fresh, local Hatch chili peppers which typically have a mild-medium heat.  Don't worry if you can't find Hatch chilies in your area, you can substitute other green chilies in this recipe like Anaheim, Poblano, and even easy to find Bell pepper or Jalapeno.
Keeping your carb and starch servings low on HCG Phase 4, the Maintenance Phase is important for managing your weight following weight loss with the HCG Diet.  This recipe contains less than a quarter of a serving of corn (1/4 serving starch/carbs).  Serve it taco style with one corn tortilla or as a Phase 4 salad.
On HCG Diet Maintenance?  Check out more of my best HCG Phase 4 recipes and articles to keep you on track and maintaining weight with the HCG Diet!
Phase 4 Shrimp with Corn Relish Recipe
Ingredients
1 pound of shrimp, peeled and deveined, tail on
1 cup corn kernels
1/2 cup green chilies, fresh or canned, (Hatch, Anaheim, Poblano, Jalapeno, or Bell peppers)
1/2 cup grape or cherry tomatoes, halved
2-3 tablespoons cilantro leaves, minced (optional)
Juice of 2 limes + lime wedges for garnish
1 tablespoon red wine or apple cider vinegar
2 tablespoons olive oil
2 tablespoons onions, minced
1 clove garlic, crushed and minced
1/4 teaspoon cumin
1/2 teaspoon oregano
1/4 teaspoon chili powder or a pinch of cayenne pepper
Pinch of salt
Directions
Wash, Peel, and prepare shrimp, Gently pat dry to remove excess liquid and set aside while you make your relish.  Carefully cut corn kernels off the cob, mix in halved grape tomatoes, green chilies, onions, garlic, and spices.  Mix spices thoroughly into corn relish, add lime juice and vinegar, 1 tablespoon of olive oil, and a pinch of salt.
Heat 1 tablespoon of oil in large frying pan on medium heat.  Lightly salt the shrimp and add to the pan.  Cook, stirring frequently for 5-7 minutes until all the shrimp are opaque but not overcooked.  Top with corn relish, garnish with cilantro and lime wedges and serve.
Serve Suggestion:  Enjoy Phase 4 Shrimp with Corn Relish taco style with one tortilla per serving (optional), or with fresh greens as a salad.