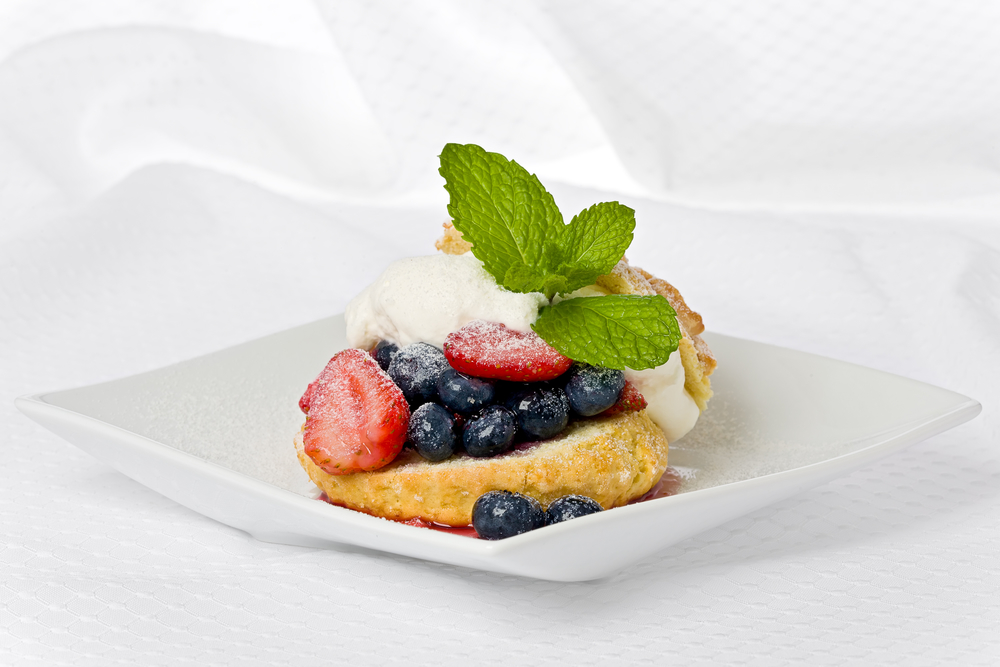 Enjoy this delicious, low carb Fourth of July Shortcake Recipe at your next Fourth of July celebration.  This buttery, delicious shortcake is perfectly low carb and makes a delicious HCG Phase 3 dessert.  A touch of orange juice and zest is my secret to a sweet, fresh fruit topping.
If you have leftovers (I rarely do because this is just so yummy) you could layer leftover shortbread with cream and fruit in a glass bowl or dish and allow the flavors to marinate and the shortbread to soften, and serve it as a trifle.  The fruit topping can also be enjoyed on its own, served over Greek yogurt with almonds to make a healthy breakfast, or used as a topping for low carb pancakes.
Fourth of July Shortcake Recipe
Ingredients
2 cups sliced strawberries
1 1/2 cups blueberries
1/4 cup orange juice
Pinch of orange zest
Stevia to taste
Shortcake
1 cup almond meal
1 cup coconut flour
1 egg yolk
1/4 cup butter
4 ounces cream cheese softened
2 teaspoons vanilla
2 tablespoons milk
Stevia to taste
Directions
Mix strawberries, blueberries, orange juice, vanilla, zest and stevia and refrigerate to marinate and combine flavors.  To make the shortcake, cream butter and cream cheese, add the egg yolk, stevia, and vanilla.  Mix in almond flour and coconut flour and add milk.  Pre-heat oven to 375.  Drop shortcake in 2-3 inch mounds onto cookie sheet and bake at 375 for 10-12 minutes until shortcake is lightly browned.  Allow to cool, cut shortcake in half and top with berry mixture and top with Stevia Whipped Cream.  Garnish with fresh mint, a sprinkle of stevia, and orange zest (optional)
Stevia Whipped Cream
1 cup whipping cream
2 teaspoons vanilla
Stevia to taste
You can enjoy this Fourth of July Shortcake recipe any time of the year.  Eat clean, eat healthy, and you will be successful at stabilizing and maintaining your weight.  Check out more Summer Recipes Ideas for the HCG Diet!
P.S.  This HCG Phase 3 recipe is modified from the upcoming HCG Diet Gourmet Cookbook Phase 3.  For more information, free HCG Diet recipes, and get the latest updates, sign up to be on my mailing list HERE