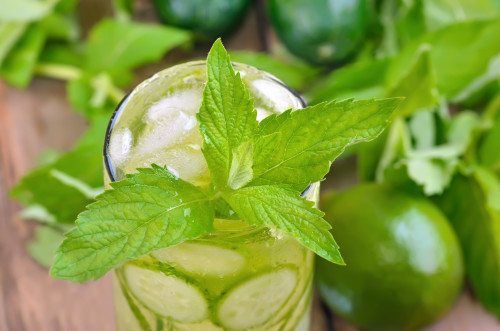 Getting plenty of fresh, pure, water every day is an absolute necessity on the HCG Diet Phase 2.  As you release up to a pound a day on the low calorie HCG Phase 2 you need water to effectively flush and cleanse your body of waste products from the fat burning process and rehydrate the cells of your body.  Drinking enough water (8-10 glasses a day is recommended) is an important, daily requirement for proper functioning of vital systems and organs.  Still, many people simply don't enjoy drinking plain old boring water and as a result may get dehydrated and miss out on the weight loss and health benefits of one of natures healthiest offerings.
I recommend using the purest, freshest spring water you can find.  For a refreshing taste and even more health benefits, consider adding Concentrace ionic trace minerals especially if you want to remineralize and revitalize distilled water.  Try my delicious Stevia Lemonade Recipe on your Phase 2.  Adding fresh lemon to your water is super refreshing and you can even mix it up with the addition of fresh herbs to your HCG Diet Water like lavender, thyme, mint, and basil!
Did you know that drinking more water on the HCG Diet Phase 2 is also a great way to satisfy any occasional hunger pangs?  In addition to feeling full and hydrating your body, drinking more water can help you give up and detox from unhealthy sugary or chemical laden sodas.  Honestly, we need all the help we can get on Phase 2 to flush out the fat and toxins and get better weight loss results.
To encourage HCG Dieters to drink more water on the HCG Phase 2, I've put together a few creative and fun HCG Diet Water Recipes and fruit infusions that can help you not only drink more water but ENJOY drinking more water by giving you a fruity, zesty, alternative to ordinary water.
When you make these delicious HCG Diet Water Recipes, you will not only add lots of flavor to your water and your diet but you will be getting the full recommended 8-10 glasses of delicious water you need every day!
Cucumber Mint HCG Diet Water Recipe
Ingredients
2 or 3 thin slices raw cucumber
2-4 peppermint or spearmint leaves, crushed
4-6 slices lemon or lime (optional)
8-10 cups spring or purified water
Stevia to taste (optional)
Crushed Ice
Directions
Lightly crush mint and add water and cucumber slices.  Chill in the refrigerator and allow flavors to infuse for at least 30 minutes, pour over crushed ice, add stevia if desired, and enjoy.  Feel free to add a slice or two of lemon or lime for added flavor.
After you have enjoyed your HCG Diet water, consider blending the leftover cucumber and mint with additional ice and stevia for a refreshing Cucumber Mint Sorbet.
Strawberry HCG Diet Water Recipe
Ingredients
2-3 strawberries, thin sliced
8-10 glasses spring or purified water
Stevia to taste (optional:  try it with pal)
Crushed ice
Directions
Infuse strawberry slices in water for a minimum of 30 minutes.  Pour over crushed ice and add stevia to taste.  For more delicious
♥ HCG Recipes.com Tip
After you have enjoyed your Diet Water, save the strawberries, freeze, and make a refreshing HCG Phase 2 Strawberry Sorbet.
Cinnamon Green Apple HCG Diet Water Recipe
Ingredients
Green apple slices (about 1/4 of your apple for that meal)
Pinch of Cinnamon, ground
Plain or Cinnamon Stevia (optional) to taste
8-10 cups spring or purified water
Crushed Ice
Directions
Prepare your ingredients.  Slice your tart green apples very thin and add to your spring water.  Sprinkle with cinnamon and add crushed ice and Stevia to taste.
♥ For more delicious beverages for HCG Phase 2 check out the recipes in the HCG Diet Gourmet Cookbook Vol 1