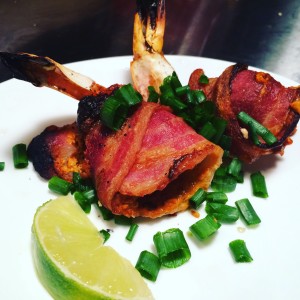 One of the things my fiancé and I love to do is cook together.  I was in the middle of a 7 day Keto detox (one of my secrets for weight maintenance) and eating super healthy, P3 style meals high in protein and watching my sugar and carbs when he came up with this delicious P3 Shrimp recipe to accommodate my Keto needs.  I had a can of chipotle peppers in adobo sauce in the cupboard and when he told me what he was thinking, I quick ran out to the store for some Jumbo shrimp.  Oh man, the creamy Chipotle filling combined with the smokiness of the bacon really set off the flavors and textures but it was the squeeze of lime at the end that really made this recipe pop.  Seriously, my new favorite P3 Shrimp recipe.  Sooooo Good!
Whether you are on your HCG Phase 3, eating Low Carb or doing a 7 day Keto Detox like me, these bacon wrapped Chipotle stuffed shrimp are a perfect appetizer or main course for your diet.  Enjoy this delicious P3 shrimp recipe on your next round of HCG.
Note:  You can use smaller shrimp instead of jumbo shrimp too if you prefer, just cut bacon strips in half for wrapping up smaller servings.
Bacon Wrapped Chipotle Stuffed Shrimp P3 Shrimp Recipe
Ingredients
8-10 Jumbo shrimp
8-10 slices uncured bacon
1-2 chipotle peppers in adobo sauce (reserve 1 Tbs. adobo sauce) or to taste
1 ounces cream cheese
Sprinkle of green onions
Lime wedges for garnish
Directions
Parbake your bacon for 5-7 minutes in the oven at 375 degrees.  Remove and drain off excess fat.  Increase oven temp and preheat to 500 degrees.  Cream Chipotle peppers with cream cheese and adobo sauce (You can use less or more if you prefer less spice) and set aside.  Butterfly your jumbo shrimp and stuff with a generous amount of cream cheese chipotle mixture.  Wrap each shrimp in bacon and place into hot oven for 3-5 minutes until bacon is crisp and shrimp is cooked.  Top with green onions and serve with a squeeze of lime.
Makes about 4-5 servings